EMS providers please see NYS guidance documents.
The 2019 novel coronavirus (technically "SARS-CoV-2") causes the disease COVID-19. COVID-19 is deadly. It is much more lethal than the flu; credible estimates range from 1% (in a well functioning healthcare system) to 4.9% (in an overwhelmed helthcare system) versus 0.1% overall flu mortality. The death percentages increase dramatically with age beyond 60, having a pre-existing breathing problem, or having a condition which causes a reduced immune system response. COVID-19 is much easier to catch than the flu. Here are some facts about conronavirus:
It is spread by macro and micro droplets which are expelled from an infected person by coughing, sneezing, or spitting. Most droplets fall out of the air within 6 feet. The smallest droplets can hang suspended for up to three hours. If you breathe in the droplets, you may become infected.
It is spread by droplets falling on objects, or an infected person touching mouth, nose, or eyes and then touching an object. It is possible that another route of transmission is through feces. Coronavirus can survive on a surface for several hours up to two days depending on the surface type, temperature, and humidity. If you touch a contaminated object and then touch your mouth, nose, or eyes; you may become infected.
The coronavirus is easily removed from a surface by washing with water and soap or detergent. Coronavirus is killed (denatured) by alcohol, bleach, ammonia, UV-C, heat (133°F for 20 min; 150°F for 4 min), or drying out (desication—which may take 12 hours). The EPA has a list of products registered as disinfectants effective against SARS-CoV-2.
It can take from two days up to two weeks (14 days) after infection before symptoms appear—the incubation period. Moreover, some persons can have COVID-19, not show any symptoms, and still transmit the disease to others—be infectious.
Below are ways to avoid catching COVID-19, some things you should think about if you do catch COVID-19, and some other considerations.
How to Avoid Catching COVID-19
If you are 60 years or older, have a pulmonary compromise (lung disease, lung injury, CHF, etc.), are immunocompromised (diabetic, taking a steriod, have a organ transplant, etc.); please isolate yourself to the best of your abilities. For everyone, but especially for you, your best protection is isolation.
If you must leave your home:
Wash your hands in warm water, or use a hand sanitizer, before leaving and immediately upon returning. Change out of and wash your outer clothes when you get home.
Avoid touching. Do not touch another person. Do not touch objects others may have touched. If you must touch, sanitize your hands immediately or otherwise as soon as you can.
Keep a distance from other people. It is recommended to keep 6 feet (or more) from others.
Avoid groups of any size. The larger the group. the more likely someone in the group is a carrier of the 2019 novel coronavirus, and might not even know it.
Avoid closed spaces. Airborne coronavirus is the most likely to infect you. Fresh air is best; closed recirulated air in a small space is worst.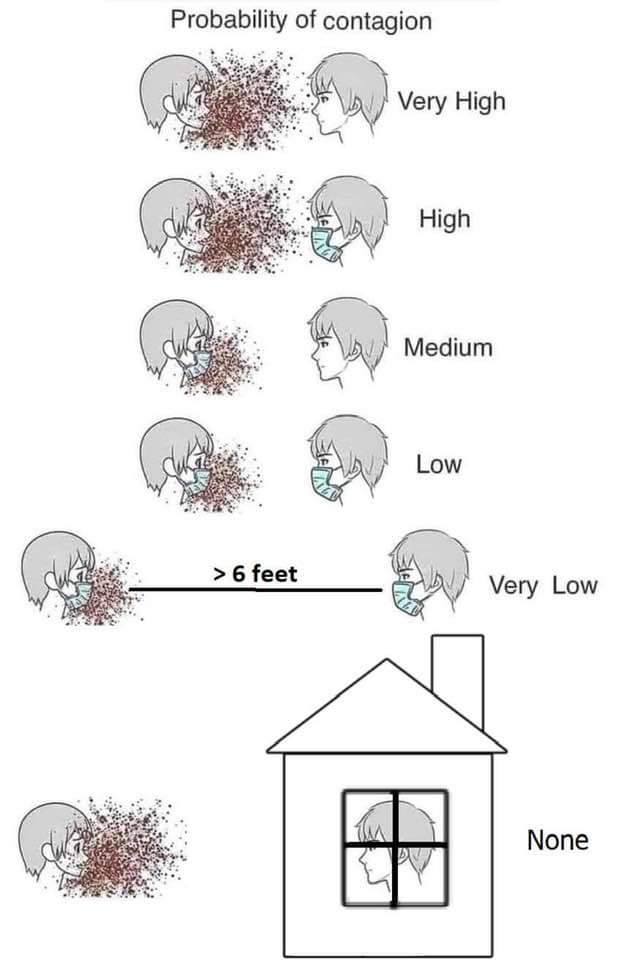 How to Avoid Spreading COVID-19
The Federal Center for Disease Control (CDC) guidance regarding the spread of COVID-19 at gatherings and events is online here.
For individuals, unless you are very sick, stay home. On the other hand, if you have severe difficulty breathing, go the the hospital.
If you must go out, wear a face (nose and mouth) coverning. There are many plans of how to make a face covering or mask on the internet. You may be infected and don't know it. A face covering will help prevent you from passing the virus on to someone else. If you are not infected, properly constructed, to a limited extent, it may help you avoid infection. The New York Times has an article about how to choose the best fabric; the NYT article is also reproduce here.
If You Think You May Have COVID-19
The symptoms of COVID-19 may appear 2-14 days after exposure to the virus. COVID-19 symptoms are:
Fever or chills
Cough
Shortness of breath or difficulty breathing
Fatigue
Muscle or body aches
Headache
New loss of taste or smell
Sore throat
Congestion or runny nose
Nausea or vomiting
Diarrhea
Someone who is infected may have none, one, some, or all of the symptoms. The
CDC estimates
that about 35% of those infected show no symptoms (are asymptomatic), but can tranmit the disease. If you have symptoms,
get a free test
. If your symptoms are mild, please
DO NOT GO
to the hospital's emergency department. There is absolutely nothing the ED can do to make this better other than routine symptom control which you can do at home.
Consider taking over-the-counter medications that you normally use for cough or fever. If under age 15, do not take aspirin or aspirin containing products.
Continue to take your regular medications unless your health care provider advises you otherwise.
Stay at home until you have no fever for 24 hours without the use of fever-reducing medication.
So that you do not infect others in your home or outside your home:

Avoid close contact with others.
Cover your mouth when sneezing, blowing your nose or coughing.
Avoid touching your eyes, nose and mouth. When you touch something else, you can spread the virus this way.
Wash hands frequently and always after coughing/sneezing, etc. Use soap and water or alcohol-based hand sanitizer.
Do not share glasses, cups, utensils, toothbrushes.
Clean hard surfaces (especially in commonly used areas: bedroom, kitchen, bathroom) with standard household disinfectants.

Contact your health care provider if you have questions or if your condition worsens.
If you cannot speak in complete sentences, you have severe shortness of breath. Please GO to hospital's emergency department. The hallmark of COVID-19 is severe lower respiratory (lung) complaints. Severe shortness of breath could indicate acute severe disease (COVID-19 or something else) and needs to be taken seriously.
Patients with COVID-19 symptoms will be handled differently and evaluated with the strictest of precautions. There will be isolation. There will be doctors, PA's, NP's, nurses, and techs who will be in isolation gear as well.
Other Considerations
Please DO NOT GO to the emergency department for minor complaints like strains, low back pain, minor bumps and bruises.
If it is not an emergency, going to the hospital in an ambulance will not get you seen more quickly than going by car or taxi. Call 911 for a true emergency such as severe difficulty breathing, heart attack, brain attack (stroke), severe injury, uncontrollable bleeding, etc. For other than an emergency, go the the hospital in someone's car or take a taxi. The EMTs are already in danger. Please don't put them at additional risk.
---
Updated: 27 June 2020